September offer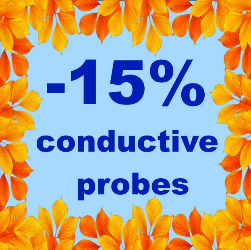 September offer
We would like to inform you that in September 2018 you can order most types of standard conductive cantilevers with15% discount. Order a box with 15 or 50 cantilevers and get probes at a good price!
The probes with both sides coated are available for operating in any electrical AFM modes (C-AFM, PFM, EFM, SKM, KPFM, SSRM on polymers): https://tipsnano.com/catalog/afm-standard/conductive.
The probe series involved:
- Pt coated cantilevers:
- Au coated conductive cantilevers:
Click the probe series name to find the detailed probe specification.
Choose all necessary probes for your work, follow our accessories news www.tipsnano.com, use different discount programs and save money ordering probes from TipsNano!
29.08.2018