March offer!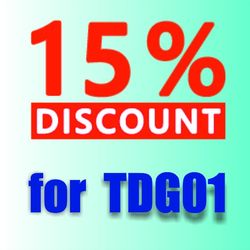 March offer!
Meeting the spring, company TipsNano wishes you pleasant time and successful changes!
We would like to announce new March Promo - сalibration grating
TDG01
for AFM submicron calibration in X or Y direction with
15% discount
only in March 2018.
The unique calibration test sample TDG01 is referred to the class of surface topography calibration instruments of nanometer range and intended for estimating length sizes in range 10-9÷ 10-4 m and calibration of different equipment such as AFM, SEM, SNOM, etc.
| | |
| --- | --- |
| | The grating is formed on the chalcogenide glass coated by Al and presents an array of step structures with the step period 278 nm, the chip size 12.5mm and the diameter of effective working area 9mm. The test sample consists of similar step structures with sinusoidal geometry of sample surface. |
If you have any further questions concerning the grating or other TipsNano products you are welcome to contact us: sales@tipsnano.com
01.03.2018