March offer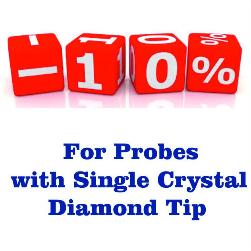 March offer
We would like to announce our new special offer for Unique probes with single crystal diamond tip.
In March 2020 ordering SCD probes you will get 10% discount.
The probes are highly resistant to mechanical destructions and keep their sharpness during the whole working day and more. Sharp, single crystal diamond AFM probes give the AFM user all the known benefits of hard diamond, with no compromise on image resolution.
It's the best choice for most semicontact, contact and electrical modes.



Dimpled aluminum produced by anodization
of aluminum and selective removal of alumina.
Probe: DRP30_SS

.


Scan size: 500x500nm2.
Pulse force nanolithography on GaAs,
then scanning the same area in contact
mode.
Probe:

DRP30_SS

.


Scan size: 2x2um2.
Image courtesy: Alexei Temiryazev (Kotel'nikov Institute of Radio Engineering
and Electronics of RAS, Fryazino Branch), SmartSPM, AIST-NT.
Probes involved:
Using these probes you don't need to choose between performance, lifetime and price anymore. Diamond manufacturing technology provides both sharp and wear-resistant, high quality AFM probes.
02.03.2020