February offer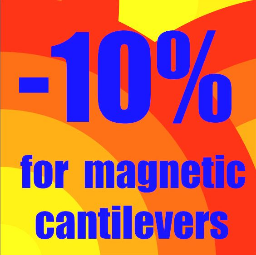 February offer
We would like to announce the possibility to order magnetic probes MFM01 and MFM_LM

with 10% discount

in February 2019.

These probes allow to carry out ordinary magnetic measurements (MFM01) and the measurements with special requirements such as imaging low coercive magnetic samples (MFM_LM) with high accuracy and resolution to 20-30nm. Special protective layer helps to avoid oxidation and increase the cantilevers' lifetime significantly.


TipsNano MFM probes provide such advantages as:

Stability and durability of properties.
Magnetic resolution up to 20-30nm.
Variety of applications.
Guaranteed cantilevers' lifetime is 1 year.

Detailed specifications:

https://tipsnano.com/catalog/afm-standard/magnetic/




Choose all necessary probes for your work, follow our accessories news www.tipsnano.com, use different discount programs and save money ordering probes from TipsNano!
29.01.2019